Have you wondered, how can I make my own invitation card? You might think you need some sort of artistic skills or your last resort is to pick one up from your local gift card store, luckily making your own invitation has a third option. If you're also wondering, what is the best free online invitation maker? That's Canva.
What is Canva and why is it the best choice for designing your own invitations?
Canva is an easy-to-use design tool that can be used by anyone. It's free software that you can use to create invitations which we'll show in this tutorial but also many other designs like book covers, social media graphics, flyers, posters, and well almost anything. With Canva, you can create a wide variety of designs in a matter of minutes. With the help of this tutorial, you will be able to use Canva to create invitation cards online.
Canva allows you to easily create your own invitation cards by using the free templates available on their website or customizing your own designs from scratch. You can also upload your own images and photos as well as add text.
Its easy-to-use interface makes it the best choice for designing your own invitations. Canva has an ever-expanding library of templates and designs that you can use as a starting point for your invitations.
So even if creativity isn't your strong suit you can find something that works for you. Ready to create your own invitation in Canva? Let's get started.
How to Create Your First Invitation With Canva?
Canva is a free digital design tool that allows you to create your own graphic designs. It has a wide range of graphic templates, fonts, and graphics that you can use to create your own designs. That's where we'll start.
Step 1: You'll need to register a free account to use Canva, but once you're in you have access to the many invitation templates it has.
Step2: From the Canva search bar, you simply want to type in 'invitation' and you can choose from a portrait or landscape option. Choose whichever best fits your needs.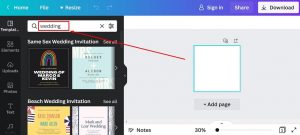 Step 3: Next, you'll be given a choice of beautiful templates. For some templates, you might need a Canva premium account but for most, you only need your free account. Choose whichever template you like by clicking on it.
Final Step: Finally, you are at the Canva design screen, all you need to do is click around and change what you want to your own special design. You can change the colors, fonts, font size, text, and more in Canva. You can even add your own images. How your invitation looks is truly up to you.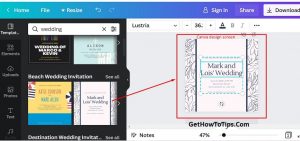 Choosing the Right Colors for Your Design
There are a lot of ways to create a beautiful card design with Canva. You can use an invitation card template, or you can choose one of the many color palettes that are available.
The colors you choose for your design will help convey the message you want to send and it will also look great on different devices. To choose the right colors for your invitation think about the event and the message you're trying to convey. If you're having a baby shower or birthday party for a kid you might use bright colors like yellow or orange.
On the other hand, if you're having a wedding and the wedding colors are red and black, it would be a nice touch if your invitations matched that.
How To Download & Print Your Invitation?
Once you're done creating your invitation cards online, you'll want to download them and print them to send, additionally, you can save them digitally to your computer and send them by email. The choice is yours.
Either way, to finish up your design and use it, click the white share button in the top right corner. From here, you can download it, print it, and even share it on social media with your friends and family.
Congrats you've made an invitation card online without leaving the comfort of your home and it looks beautiful too.
Reference:
https://canva.com
​​https://www.canva.com/create/cards/party-invitations/
https://www.canva.com/create/cards/invitation-cards/
Authored by F. blindsoul